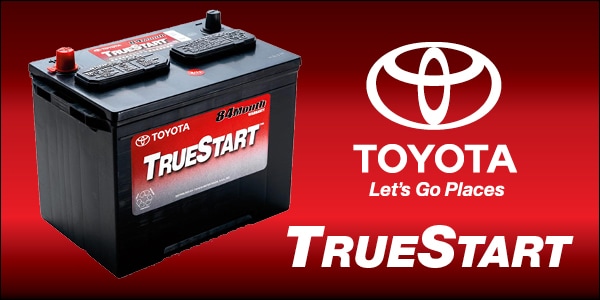 Why Your Battery Should Be A Genuine Toyota Replacement:
The only warranty replacement battery approved for your Toyota vehicle.
Meets or exceeds Toyota specifications for all vehicles.
The exceptional 84-Month Warranty!
24-month FREE Replacement.
60-month proration in a simple two-tier priced plan.
Includes Towing and Installation Labor.*
Coast-to-Coast warranty service at more than 1,200 locations! *Ask dealer for specific details.
Features Include:
Matrix Radial Grids to help your battery meet today's high current starting demands.
The right balance of Cold Cranking Amps and Reserve Capacity to provide power and cranking ability time after time.
A patented lead alloy feature that reduces corrosion of lead parts and extends the life of your battery.
A Negative Plate Paste Expander that reduces damage caused by high under-hood temperature or extreme heat.
Tip: If your car won't start or stalls frequently, it may be time for a new battery. Ask for a Genuine Toyota Replacement battery.
Coupon not valid with any other offer. Coupon does not apply to prior purchases. Other Restrictions may apply. Void where prohibited. Taxes & installation not included in advertised price.